At the rate I am going, returning to work next week does not sound like a fun thing. I admit, I am feeling a bit restless and antsy being at home (and I am actively avoiding doing any work, apart from occasionally checking emails and being thankful no dramas are emerging there). What I have managed to do is a bit more sewing. I have SO many projects to do, I really need to sit down and write down everything I need to do. Perhaps in doing so I will also stop myself from buying more stuff and creating new projects for myself, thus exacerbating the problem! Although I must say, having too much craft to do is a way better problem than having too much work to do!
So anyway, a few more photo updates from my recent project, a series of stitcheries from
So September
(who I also mentioned last blog)
Quite liking my French knots!
I also took my stitching to the local Gloria Jeans.




Oh, I forgot to ask, how was everyone's Christmas? Mine was good, managed to get some nice gifts and things, as well as giving some pretty decent gifts (in my humble opinion). I also took the time to annoy Millie whilst I was at my parents.
I am not sure...
...she was too impressed...
...with the...
...tree sticker on her head
I was highly entertained though of course, which is the most important thing!
Xmas seems to come upon us faster and faster each year. A sure sign I am getting old, as much as I don't really think I am old. But it is great catching up with familiar faces and celebrating the end to another year
I also have been doing some tidying around the place.
My floss is getting a little more organised for a change...
And I also finally put up the awesome framed 311 posters one of my friends gave me for Xmas...
Despite this, I have a continuing dilemma: my book pile seems to be growing larger, rather than smaller.
And that doesn't even show all the books I have yet to read!
I just finished two books in the last couple of days. Jonathan Franzen's 'The Corrections' and Paul Auster's 'Sunset Park'.
Image from crimealwayspays.blogspot.com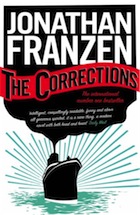 Image from The Guardian website
I must say I wasn't as impressed with The Corrections as I hoped I would be. I found all of the characters REALLY annoying! I just wanted it to end. Sunset Park was good, but all too brief. It felt like such a small snapshot of the characters he presented. There was way too much missing, I was left wanting more. The next cab of the rank is Paul Theroux's 'The Family Arsenal', which I picked up at the bookstore at work before Xmas (because, you know, I needed another book to read).
Image from letsbuyit.co.uk
Today I just had to get out of the house, so I took myself into Newtown, stopped into
Berkelouw Books
, and shouted myself lunch in the cafe
Chicken caesar salad and a book. Double yum
Okay, I am rambling a bit, and I promised myself an early night, so I think I will end blogging now. Fingers crossed I fall asleep before 4am, unlike last night! Tomorrow morning is a trip into Ikea to scope out a craft/work desk for my spare room. Yay!